Rhino Gutter Products in Greater Atlanta
Rhino gutter guards are the highest quality gutter protection system available in Georgia
Learn more about the complete Rhino Gutter Guard system and what it can do for your home
When you invest in your home, you want to be sure that you're getting the best products and services available. That's why the gutter experts at Nehemiah Exteriors only use Rhino Gutter Guards, providing you with the most effective and longest lasting gutter protection system in the industry.
Rhino has been an industry leading gutter manufactuer since the early 1980s, and their innovation and expertise has led to the development of the best gutter guards around. Nehemiah Exteriors will provide you with quality installation to ensure that your home is fully protected.
If you need gutter guards for your home, call us today at 1-844-385-9664 or click below to get started. We offer free estimates on gutter guards in Alpharetta, Marietta, Roswell and throughout Georgia.
Rhino Gutter Products from Nehemiah Exteriors
Rhino provides a complete line of gutter products to ensure that your home has all the protection it needs. No matter what products you choose, Nehemiah Exteriors can provide you with a quality installation.
---
Rhino Gutter Guards
Rhino Gutter Guards combine strong aluminum and stainless steel mesh to keep everything other than water out of your gutters. The openings are small enough to even keep pine needles out while still handling 60 gallons of water per minute. These gutter guards actually strengthen your gutters, will seamlessly blend into your house, and will last for years.
---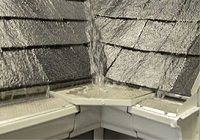 Rhino Miters
High volumes of water can overwhelm gutters in spots such as roof valleys, bay windows, and under dormers. Rhino Miters expand the collection area by 40% at these trouble spots, allowing water to freely enter the gutters while still keeping out all debris. These are much more low profile than shields or diverters and are more effective.
---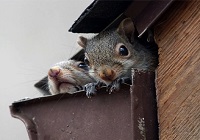 Rhino Gutter End Caps
There's no sense in installing a gutter guard system that doesn't provide complete protection, which is why end caps are a smart addition to your gutters. These caps seal off the ends of your gutters to prevent small animals or other debris entering through openings. These add-ons provide a uniform appearance with the rest of the gutter guard system.
---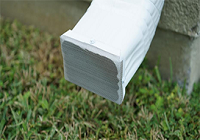 Rhino Downspout Caps
Of course, the top of a gutter isn't the only way for animals to enter. Our stainless steel micro-mesh downspout cap prevents any pests from entering your gutters while still allowing water to flow freely. These caps snugly screw on around each downspout opening, ensuring that the only thing that will be in your gutters is water.
---
Upgrade to Rhino Gutter Guards for your home today
If you're interested in adding gutter guards to your home, call the local experts at Nehemiah Exteriors to learn more about why Rhino Gutter Guards are the best system available. We will help you choose the right products for your needs and provide you with a system that works perfectly and looks great.
Call us today at 1-844-385-9664 or contact us online to get started with a free estimate. We offer all our gutter services in Marietta, Alpharetta, Roswell, Woodstock, Acworth, Kennesaw, Smyrna and throughout the surrounding areas.
Looking for a price? Get a no cost, no obligation free estimate.